On this page I'll include reviews of the shows I've done with this band, both recently and in the past. I'll also include a review of my CD that was published in T.O.nights magazine.

JULY 14/15/99 THE MATADOR CLUB TOR. ONT.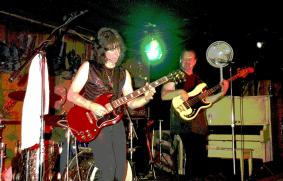 This was the first of a 2 nighter that started at 3:00 am and rocked on till 5:45 in the morning. The place was pacted with frienzied fans and people who were coming from the last of the opening parties of the MOLSON INDY.The band hit the stage on time and opened with a screaming version of "Highway-61" which really got the crowd's attention. They then broke into "Lonesome Train" and started a major danceathon that lasted till dawn. The show was peppered with some of the band's great original tunes penned by GORD-X and brought a very favorable response from the crowd. The last part of the show was a fantastic medallee of some great sixty's hits that sent everyone home happy and spent.All in all a great night for the club and the band. WOW!
Major rockin solos abound
Gordx singing his heart out at 4 in the morning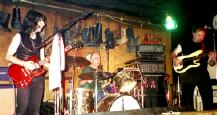 The Band rocks on